Hello! FusionFury9 Here. This is my way of the Algicosathlon in Day 1 that is.
( Please don't edit this I just want people to see it, if you want to edit it just make your own)
Event 1: Race To The Bowl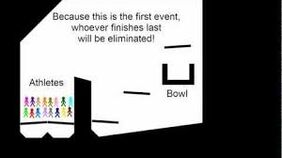 Athletes:














Points
Just like the regular.
1st: 100 pts
2nd: 70 pts
3rd: 50 pts
4th: 40 pts
5th: 30 pts
6th: 25 pts
7th: 20 pts
8th: 15 pts
9th: 12 pts
10th: 10 pts
11th: 8 pts
12th: 6 pts
13th: 4 pts
14th: 3 pts
15th: 2 pts
16th: 1 pt
The Happening
The athletes stand on a platform between two spinny things. The platform randomly disappears and the athletes fall. Navy and Red get pushed onto the side of the bowl. Navy hits the wall and knocks Red into the bowl.
1st: Red
Lime and Tan fall in too. Tan fell in first.
2nd: Tan
3rd: Lime
Purple strives to land in the bowl but, Gray pushed her away. Purple desperately tries to get revenge while this is happening, Lavender makes it in and so does Blue.
4th: Lavender
5th: Blue
Purple pushes Gray into the left side, then surprisingly, he bounces off and lands in the bowl. Yellow and Green landed in too.
6th: Gray
7th: Yellow
8th: Green
The Halfway Mark
Olive, Purple, Brown, Cyan, Orange, Navy, Pink, Magenta remain.
Cyan, Navy, and Purple land near the bowl. A shocking twist came though. Olive knocked Navy out of the target and Cyan and Purple made it.
9th: Cyan
10th: Purple
There is a clear space between the bowl, Orange is striving to make it in and he knows its his chance. Navy beat Orange to it though but Orange made it in.
11th: Navy
12th: Orange
Olive, Brown, Magenta, Pink
Pink gets hit by one the spinny things and targets into the bowl, Magenta tries to follow her. Pink made it in and Magenta miserably failed by getting hit.
13th: Pink
Brown knows that he can do it he lands at the right side wall near the bowl and bounces off into the bowl
14th: Brown
Magenta and Olive target the bowl. Magenta got hit up higher by the spinning platforms and makes it in. Olive makes it about 16 seconds after.
15th: Magenta
16th: Olive
White: Magenta is safe, now lets show the scores
The New Scores
1st: Red 100 pts
2nd: Tan 70 pts
3rd: Lime 50 pts
4th: Lavender 40 pts
5th: Blue 30 pts
6th: Gray 25 pts
7th: Yellow 20 pts
8th: Green 15 pts
9th: Cyan 12 pts
10th: Purple 10 pts
11th: Navy 8 pts
12th: Orange 6 pts
13th: Pink 4 pts
14th: Brown 3 pts
15th: Magenta 2 pts
16th: Olive 1 pt [ELIMINATED]
Olive: Oh No! I'm Eliminated! After all I did make it far in the real Algicosathlon, and people like me.
Algicosathlon Day 10 Recap: But, Seriously who likes Olive.
(Olive falls into the lava pit)
White: Sorry you were the last to enter the bowl, you are the first to enter this bowl.
Stay tuned for Algicosathlon Day 2 (FusionFury9's Way)
Ad blocker interference detected!
Wikia is a free-to-use site that makes money from advertising. We have a modified experience for viewers using ad blockers

Wikia is not accessible if you've made further modifications. Remove the custom ad blocker rule(s) and the page will load as expected.