Magenta Curse is a curse in Algodoo, started by Jack Spero.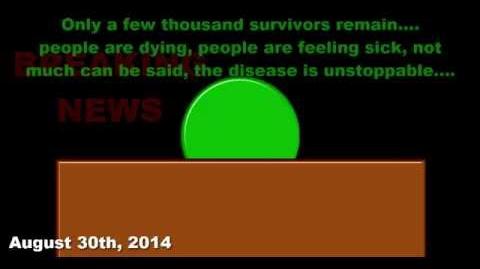 How the Magenta Curse started
In Jack Spero's Algicosathlon, Magenta took 25 minutes to get in bowl, so he was very mad at her. Ever since then, this thing called the Magenta Curse started.
Ever since Day 11, The Magenta curse rose in popularity. With many people like Erikfasset, John Dubuc, Randome, etc making Magenta Curse related stuff.
How can Algodoo marbles get the Magenta Curse
They can receive the Magenta Curse easily, just by touching a magenta marble, or sometimes by other means.
What happens if you get the Magenta Curse
In one of John Dubucs' video, nearing the end, the reporter got the Magenta Curse, showing that he has red spots on his face and is coughing.
How the Magenta Curse got cured
In one of Erikfassets' videos, at the end, he found a/the giant seed and a giant plant which can cure thousands of marbles who have the Magenta Curse.
Ad blocker interference detected!
Wikia is a free-to-use site that makes money from advertising. We have a modified experience for viewers using ad blockers

Wikia is not accessible if you've made further modifications. Remove the custom ad blocker rule(s) and the page will load as expected.