Yellow
ALGODECATHLON RANK: 3rd
ALGICOSATHLON RANK: 2nd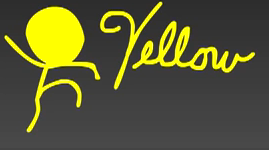 Gender: Male
Day Eliminated: Day 15
Points at Elimination: 63,671 Points at elimination on Day 15
Friends: Lime, Orange, Tan, Red (sometimes), Blue,Pink,Lavender
Enemies: Navy, Green, Brown, Magenta, Purple, Olive, Cyan, Red (sometimes)
Personality: Yellow is Gelatin from BFDIA
Algicosathlon (Carykh)
Yellow did very good in the competion, placing second overall.

In Race to the Bowl I, Yellow claimed first, and was at the top of the leaderboard, with 100 points. This was a bright era for Yellow!
In BMX Cycling I, Yellow was knocked off by Pink, who was knocked out of place by Magenta. Uh Oh. The Magenta Curse is spreading! Yellow got 4th in the event, but stayed in 1st by 2 points (Navy had 158 points).
In Team Archery, Yellow shot the 2nd arrow. He was the last one on his team (Lights) to not get shot anywhere, but was killed by one of Green's arrows. He did not make it to Round 2. He stayed in 1st.
In Sled Dog Racing, he got 6th place. But he stayed in 1st by 1 point! ONE! (Purple had 265 points, Yellow had 266.)
TO BE CONTINUED
Ad blocker interference detected!
Wikia is a free-to-use site that makes money from advertising. We have a modified experience for viewers using ad blockers

Wikia is not accessible if you've made further modifications. Remove the custom ad blocker rule(s) and the page will load as expected.